Coronavirus live news: quarter of deaths in France linked to Covid as US tops 140,000 daily cases | World news
[ad_1]

More now on the plans for the Tokyo Olympics next year:
Athletes competing at next summer's Olympics in Tokyo will not be required to quarantine for 14 days after arriving in Japan, organisers have said, as Japan works out the logistics of holding the Games during a global pandemic.
The Tokyo 2020organising committee has yet to work out the details, but has suggested that competitors will be exempt from quarantine measures that are currently required for all overseas visitors to Japan.
Instead, 11,000 athletes, along with tens of thousands of officials, judges, sponsors and journalists will have to test negative for Covid-19 within 72 hours of their arrival, media reports said.
"Athletes, coaches and Games officials … will be allowed to enter the country, provided significant measures are taken before they get to Japan," Tokyo 2020's chief executive officer, Toshiro Muto, told a news conference.
No decision has been made on overseas spectators however, with Muto conceding that requiring them to spend 14 days in isolation in Japan would be "impossible".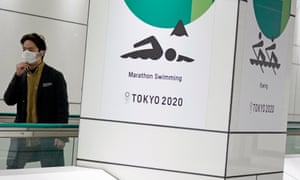 A decision on access for foreign sports fans will be made next spring, with testing before and after arriving in Japan, and limiting visitors to those from countries that have brought the outbreak under control among the options under consideration. They could also be asked to download tracking and health apps.
"By next spring, we will be coming up with a plan for spectators, including non-Japanese spectators," Muto said. "It is impossible to set a 14-day quarantine period for foreign spectators, so tests before and upon arrival are needed."
Japan has used domestic football and baseball matches to gauge coronavirus prevention measures that could feature at the Olympics, which have already been postponed by a year due to the pandemic. They include requesting fans not to shout or sing.
"There's a possibility that we may ask the spectators to refrain from shouting and speaking in a loud voice. But we haven't reached a conclusion," Muto said.
Some baseball stadiums in Japan have experimented with fan capacity at 80%.
The president of the International Olympic Committee, Thomas Bach, will travel to Tokyo next week on his first visit since the Games were postponed in March.
Bach responded with a firm "no" when asked by journalists if his discussions with Japanese officials would include contingency plans for canceling the Olympics.